Narnimmaginaria is our fixed appointment at the end of October which transforms the city of Narni into a great photography laboratory. 
The photography festival organized by the SATOR Cultural Association offers a program full of events not to be missed for photography enthusiasts but not only! Many activities will give life to different spaces in the city: exhibitions, photographic books, meetings with photographers, live music, award-winning portfolio readings, meetings, documentary screenings, debates and workshops.
For two weekends, towards the end of October, some of the most evocative spaces in the city of Narni will be open for photography exhibitions and meetings, with the participation of authors of national and international importance.
The event is recognized by the FIAF (Italian Federation of photographic associations) and is organized by the Sator Cultural Association with the collaboration of the Municipality of Narni.
Studio of the SATOR Cultural Association
 Strada Mazzini, 05035 Narni TR

Discover the upcoming events in Narni and its surrounding territory.
Discover what's not to miss in Narni:
Discover the different points of interest of Narni and its territory:
Torna il festival di fotografia NARNIMMAGINARIA, con la sua settima edizione dal 22 Ottobre al 1 Novembre 2022 a tema "Attraversando paesaggi umani".
Il festival offre un programma ricco di eventi da non perdere per gli appassionati di fotografia e non solo! Molte attività daranno vita a diversi spazi della città: mostre fotografiche, incontri con autori di fama nazionale, workshop, letture portfolio, proiezioni e musica dal vivo.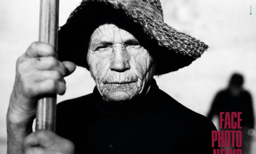 Complesso monumentale di San Domenico
Lorenzo Cicconi Massi – Gli ultimi contadini
Aldo Feroce – Il palazzo dei destini incrociati
Liliana Ranalletta – I sogni li spendo per strada
Francesco Pistilli – Tales from the border
Marco Polticchia – Rewind
Circuito Off – Attraversando Paesaggi Umani
Virginia Cassano – I confini ritrovati
Monica Manghi – Lunga e diritta correva
Carmelo Stompo – Under Your Feet
Gianluca Uda – Altri tropici
Serena Zeppilli – Expired
Mayssa El Khoury – Home is where Teta was
Luigi Loretoni e In Allarmata Radura
Maurizio Leoni – Premio Slowphotowalk 2021
Collettiva fotografica SATOR
Spazio Giovane: Libero sguardo, libero scatto – Associazione Iro Iro di Terni
Azienda Agricola Marchesi Ruffo della Scaletta
Mostra fotografica "La fotografia è lenta"
Orari di apertura:
Auditorium di S. Domenico Digipass / Palazzo dei Priori
Venerdì 16-19
Sabato, domenica e festivi 11-13 e 16-19
Museo di Palazzo Eroli
martedì alla domenica 10-19
– L'INGRESSO A TUTTE LE MOSTRE E' GRATUITO –
Ore 11 – Talk con Fabio Moscatelli e "Gioele: il mondo fuori"
Ore 12.30 – Inaugurazione mostre
Ore 15.30 – Presentazione del libro fotografico "La colpa" di Collettivo 42 e incontro con gli autori
Ore 16.30 – "Il ritratto fotografico come ricerca di sé": incontro con Teresa Mancini
Ore 17.30 – La fotografia di Aldo Feroce. Presentazione del libro "Il Palazzo dei destini incrociati" e incontro con l'autore
Ore 21 – Proiezione di tutti i lavori del Circuito Off e musica dal vivo
Ore 10 – Letture Portfolio/Concorso Sator 2022
Lettori: Massimo Mazzoli, Lorenzo Cicconi Massi, Cristiano Morbidelli, Fabio Moscatelli, Stefano Mirabella
Letture Portfolio – Progetti editoriali
Lettori: Luciano Zuccaccia
Ore 15 – La fotografia di Liliana Ranalletta. Presentazione del libro "I sogni li spendo per strada" e incontro con l'autrice
Ore 16 – La fotografia di Lorenzo Cicconi Massi – Talk con Massimo Mazzoli
Ore 17.30 – Presentazione del libro "Sicilia 1992. Luce e memoria" di Tony Gentile – Talk con l'autore Stefano Mirabella
A seguire – Assegnazione Premio Sator letture Portfolio
Ore 10 – Workshop di Editing di Portfolio e cataloghi di fotografia a cura di Livia Del Gaudio – architetto, editor freelance, critica e fondatrice della rivista "In allarmata radura"
Ore 16 – Un racconto di parole e immagini. Il fotografo Luigi Loretoni fornisce lo spunto ad una scrittrice, Ester Armanino, per produrre un racconto
Ore 17.30 – Amore Fiori. Proiezione del documentario sulla carriera di Moira Orfei presentato da Francesco Di Loreto
Ore 16 – Incontro Framing Migration: fotografia e stereotipi con interventi di Francesco Pistilli, Keita Makan e Angelo Nittoli, con la partecipazione di Kassama Ansumana, migrante a bordo del barcone nella foto del 2014 di Massimo Sestini
Ore 10 – NARNIMMAGINARIA Slowphotowalk, 2ª maratona analogica
Ore 13 – Aperitivo
Ore 14.30 – Visita guidata (anche fotografica) al complesso storico dell'Azienda Agricola Marchesi Ruffo della Scaletta

Per maggiori informazioni:
associazione.sator@gmail.com
facebook ASSOCIAZIONE SATOR
sito www.narnimmaginaria.it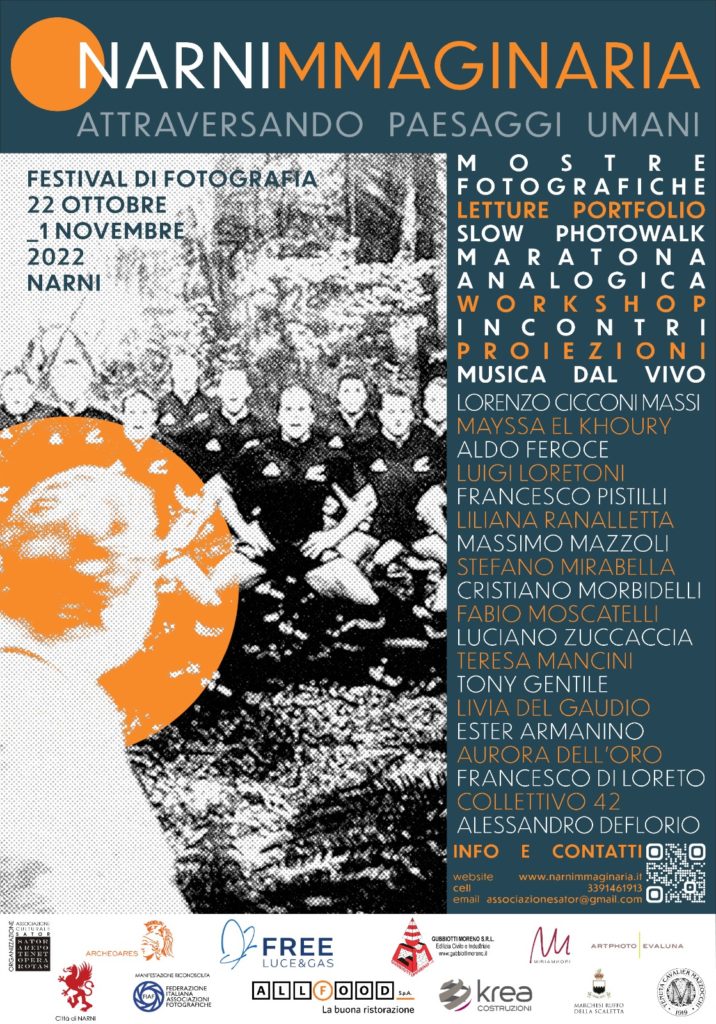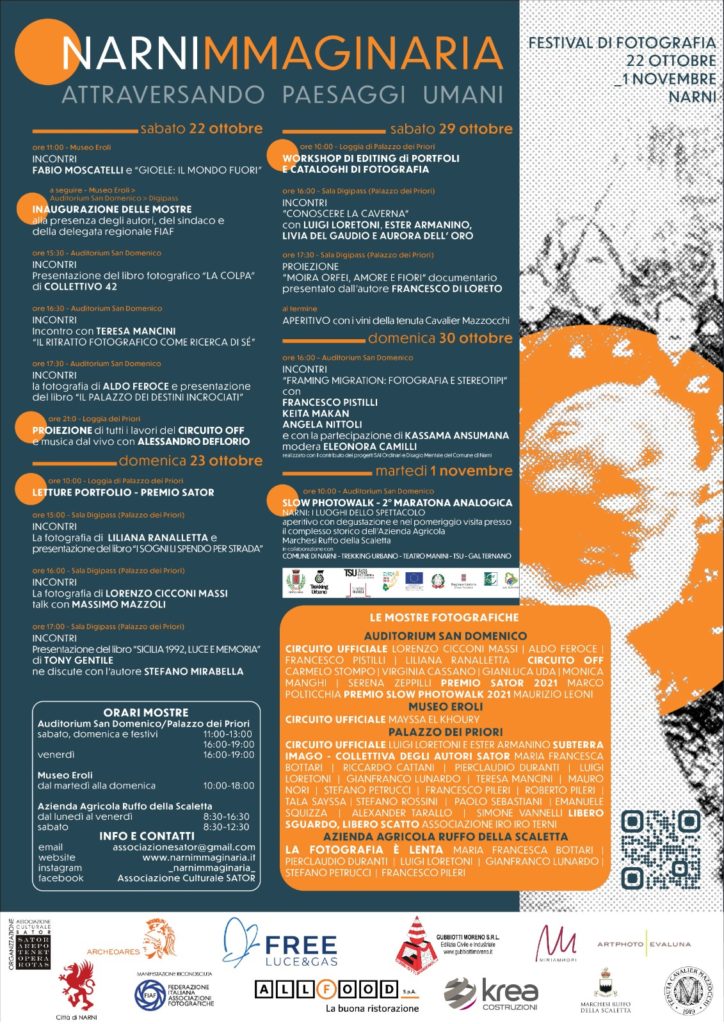 Vieni a Narni a ottobre
Narni è una città da visitare tutto l'anno ma è ancora più bella durante quegli eventi che vi vengono organizzati.